It is not every day that you rediscover a lost medieval church. When I lived in Northamptonshire I was always fascinated by the number of long-forgotten Anglo-Saxon saints still commemorated in church dedications. One saint in particular, St Botolph, is represented in seven churches in Northamptonshire (if you include the Soke of Peterborough). That is about 10% of the national total dedicated to this saint. I was a little surprised upon moving to Sussex to find him represented there in three more churches including two notable early examples of Saxon architecture. Pursuing my interest in Botolph, I joined The Society of St. Botolph1 organised by Denis Pepper who produces a fascinating bi-monthly newsletter of all things "Botolphian". There is an archive of over 100 editions and Northamptonshire is often mentioned.
So what is at Sulby?
Not a lot really, well not that's been discovered yet. Sulby is best known for its abbey founded in 1155 but was suppressed in 1538 during the Dissolution. The village itself near Welford, which was one of a number across the county that were recorded in the Domesday Survey in 1086, was abandoned and deserted by the early 15th century. The village had a church dedicated to St Botolph that was separate from the abbey church and little is known about it. In 1451 the rector, John Clere, writing to Lincoln cathedral reported that the nave had collapsed and there was no hope of rebuilding it and that there were no parishioners. The Northamptonshire historian John Bridges writing2 in the early 18th century informs us that the church was located about a mile north of the abbey in or near a meadow called St Botolph's Pool. The exact site is unknown but earthworks show that it may have been on a prominent platform near the centre of the old village that has an east-west alignment.
Who was St Botolph?
Botolph and his brother Adolph were young Saxon nobles living in the 7th century and were sent for their education to a Benedictine Abbey in France. Adolph rose to be a Dutch Bishop, whilst Botolph came back to his native East Anglia. He was given, by King Anna, a grant of land on which to build a monastery. This land was at Icanhoh (Ikanhoe), a location that is not precisely known. It may have been at Boston (Botolph's Town) in Lincolnshire or more likely to have been Iken, near Aldeburgh in Suffolk.
Botolph was born about 620 AD, only 23 years after Augustine brought Christianity back to Britain and he was disputably the person who was most active in promoting Christianity during those early years. He is one of the foremost people to whom we owe a great debt for being instrumental in founding Britain's Christian culture. He was also the patron saint of travellers for a thousand years until the fictional personage of St. Christopher became more popular.
Botolph probably died in 680 AD after a life of Christian endeavour and teaching. The monastery lived on for two centuries more but in 870 AD it was destroyed by Danish invaders. King Edgar (963-967 AD) ordered that the remains of the saint be taken from the monastery ruins, and be divided into three parts: the head to Ely, the middle to Thorney Abbey, and the remainder to be taken to Westminster Abbey.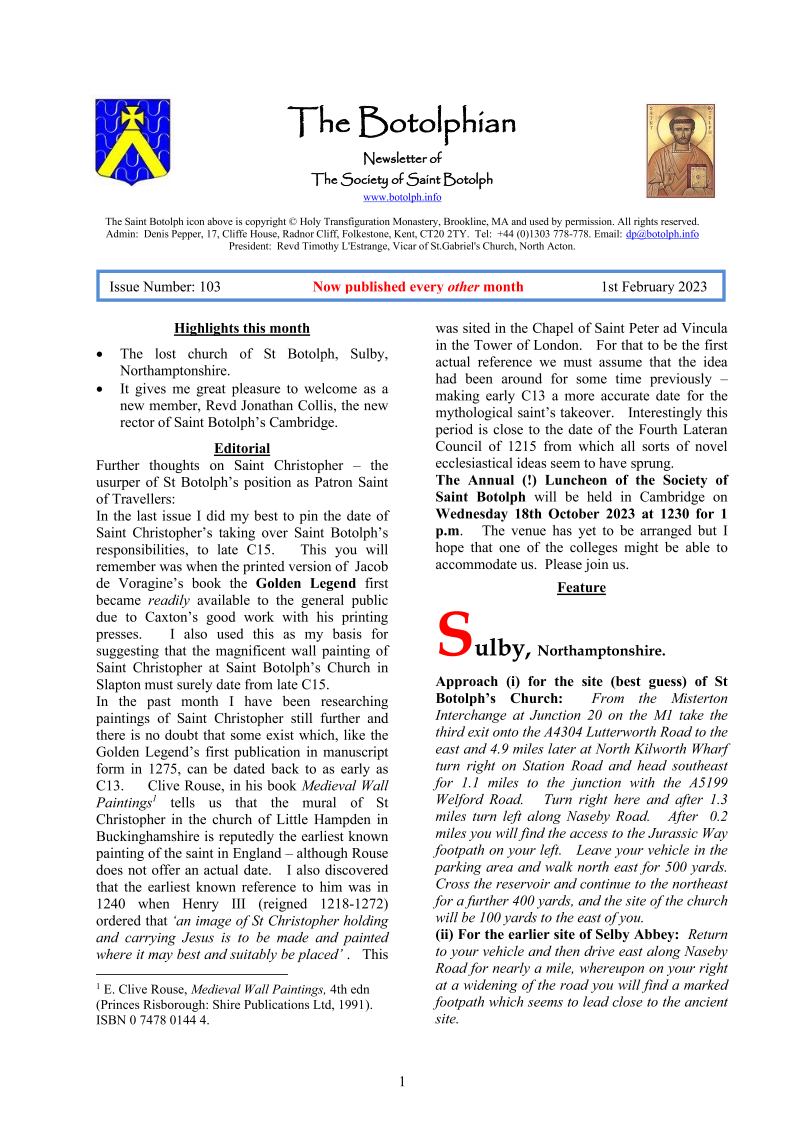 The church of St Botolph, Sulby
Following my 'rediscovery' of the lost church dedicated to St Botolph at Sulby I alerted Denis Pepper who promptly and thoroughly researched the church's history. It appears in the February 2023 edition of The Botolphian which you can read here (to read or downloads a pdf) including how the location of the church might relate to the life of Botolph.
© Copyright : Graham Ward. All rights reserved.