This is a short list of books that may be useful in understanding the background of Nonconformity in Northamptonshire. It is not a comprehensive bibliography of Nonconformist history. Some of these books are out of print, you may find it useful to visit the Northamptonshire Library Catalogue, which will be useful finding these books and histories of a specific chapel or biographies of some ministers.
General nonconformity
Glorious Hope, Women and Evangelical Religion in Kent and Northamptonshire, 1800-1850, Sibyl Phillips, Compton Towers Publishing, ISBN 0-9545478 0 2 The lives of women from different religious and social backgrounds are explored through letters, parish records, hymns, poems and numerous other documents. Negative as well as positive responses to the movement are highlighted. This study provides ample evidence to show that, in local Evangelical communities, whether Anglican or Nonconformist, the roles of women were vital, yet limited and gender-specific. Connection between the two named counties is made through extant correspondence from a Canterbury woman to the Archdeacon of Northampton's wife.
The book includes discussion of:
Women's Evangelical activism in Creaton and Spratton, including the Church Missionary Society and Bible Ladies working for the British and Foreign Bible Society;
A young female hymn-writer and the Particular Baptists at Hackleton, Northants, including William Carey and the Baptist Missionary Society.
Baptists
My Ancestors were Baptists, Geoffrey R. Breed, Society of Genealogists, 1995, ISBN 0 946789 84 3
Picking up a Pin for the Lord, Peter Naylor, Grace Publications, London, 1992, ISBN 0 946462 25 9 Covers the history of the Particular Baptists from 1688 – 1800, with much material relating to Northamptonshire.
Strict and Particular, Dr Kenneth Dix, Baptist Historical Society, Didcot, 2001, ISBN 0 903166 31 3 English Strict and Particular Baptists in the 19th century.
One Heart and One Soul, Michael A. G. Haykin, Evangelical Press, Durham, 1994, ISBN 0 852343 26 4 The life of John Sutcliff (1752 – 1814) of Olney, his Baptist Academy and friends.
The Strict Baptist Chapels of England – Volume 4 Industrial Midlands, Ralph Chambers, The Fauconberg Press, London
The Northamptonshire Baptist Association, T. S. H Elwyn, Carey, Kingsgate, London 1964
My Ancestors were English Presbyterians / Unitarians, Alan Ruston, Society of Genealogists, 1993, ISBN 0 946789 62 2 Most General Baptists became Unitarians.
---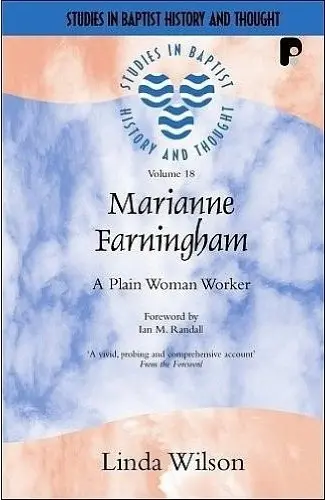 Marianne Farningham, a Plain Woman Worker
by Linda Wilson
A Plain Working Woman Marianne Farningham, of College Street Baptist Chapel, Northampton, was a household name in evangelical circles in the later nineteenth century. For over fifty years she produced comment, poetry, biography and fiction for the popular Christian press.
This investigation uses her writings to explore the beliefs and behaviour of evangelical Nonconformists, including Baptists, during these years.
Linda Wilson is a tutor in Church History with the Open Theological College, UK,
Published by Paternoster, ISBN 9781842271247
Marianne Hearn (aka. Marianne Farningham) of College Street Baptist, writer and hymn writer, including "Just as I am, Thine own to be"
---
Independents or Congregationalists
My Ancestors were Congregationalists, David J H Clifford, Society of Genealogists, 1997, ISBN 1 859510 49 3
My Ancestors were English Presbyterians / Unitarians, Alan Ruston, Society of Genealogists, 1993, ISBN 0 946789 62 2
Memorials of the Independent Chapel at Rothwell, G T Streather, Rothwel United Reformed Church, 1994, ISBN 0 952451 90 5 This book is a comprehensive history of the Rothwell chapel founded in 1655 it also includes reference to many other independent and Baptist causes in Northamptonshire and surrounding counties.
Philip Doddridge of Northampton 1702-1751, Malcolm Deacon, 1980, Northamptonshire Libraries, ISBN 0 905391 07 1
The Good Doctor, Philip Doddridge of Northampton – Tercentenary Tribute, Alan C. Clifford, 2002, Charenton Reformed Publishing, ISBN 0 9526716 3 8
---
Quakers
Quaker Meeting Houses of Northamptonshire, Ruth Whitehouse, 1997, ISBN 0 953071 30 8
My Ancestors were Quakers, Edward H. Milligan & Malcolm J. Thomas, Society of Genealogists, 1999, ISBN 1 859514 04 0
---
Methodists
My Ancestors were Methodists, William Leary, Society of Genealogists, 1999, ISBN 1 859514 03 0
© Copyright : Graham Ward. All rights reserved.