In Lady Windemere's Fan, Oscar Wilde had Lord Darlington quip that a cynic was 'a man who knows the price of everything and the value of nothing.' The same phrase could be applied to our heritage in the hands of those entrusted with protecting it for future generations.
Northampton is justly proud of its Guildhall. The original part of the building which is now the central section of the street facade was the design of Edward William Godwin and is what is known as the Gothic Revival style. Godwin was only 28 when his design was selected as the winning entry of a design competition. Godwin was not only an architect but also a designer of furniture and theatrical costumes and sets. Returning to Oscar Wilde, he was among Godwin's many clients, describing Godwin as "one of the most artistic spirits of this century".
As part of his Northampton Guildhall project, constructed 1861-64, he also designed the fittings and furnishings, many of which can be seen today. It was perhaps surprising then to find some of this furniture has been available for sale from time to time.
At a Christie's auction on 9 November 2000 1 these two chairs were sold individually for £4,113 and £4,700.
Whilst these chairs may not be to everyone's taste, they do represent a significant milestone on furniture design and are an integral part of the Gothic Revival of the 19th century. As can be seen the chairs were not in the best of condition in 2000 and lacked their upholstery. Originally twenty-four chairs were made by Green and King of Baker Street, London for Northampton's Town Hall. A second group was made in 1891-92 by Matthew Holding and A.W. Jeffry of Pratts of Bradford. The 1891-92 version differed from the first production in the length of the back support and in certain aspects of the seat construction 2.
At a subsequent Bonhams auction in New York on 7 December 20203 these two chairs re-appeared in a restored condition.
According to the provenance details given at the sale, these two chairs were at the time part of a private collection in Pennsylvania, it also confirms the link to the original sale in 2000. The new purchaser paid $12,112 (about £8,550), not very much different from the price paid 20 years earlier.
The remainder of the chairs are located in the The Godwin Room at the Guildhall. Why and when these chairs were disposed of is not known.
One other item from Northampton's Guildhall has also surfaced in the antique furniture world, a small trestle table4.
This table can be identified among Godwin's drawings for the Guildhall, which is one of 47 of his drawings for the project held by the Victoria and Albert Museum, including the building design itself5.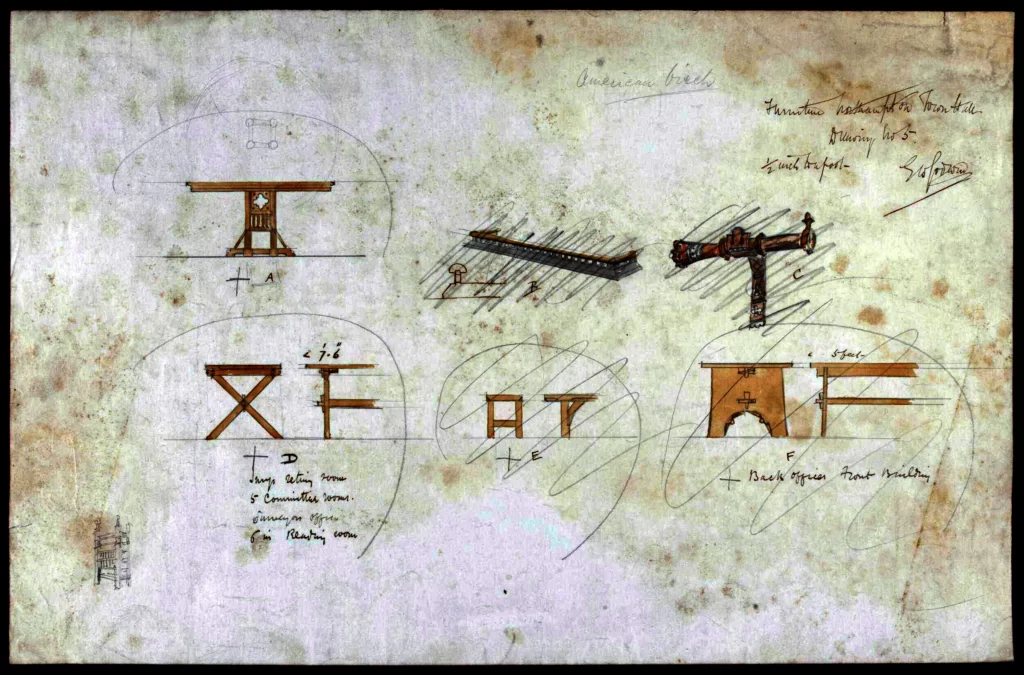 © Copyright : Graham Ward. All rights reserved.